Room acoustics products
Diverse, highly absorbent products for better room acoustics. Gone are the days when acoustic products were also immediately recognized as such and served exclusively for noise insulation. With frameless acoustic pictures, for example, you reduce noise with your personally selected wall decoration.
aPerf® pictures are almost limitless in size, environmentally friendly and highly absorbent
the micro-perforated laminate layer of the SmarPerf® pictures has an optically closed effect and is easy to clean
the design-awarded SonoPerf® images made of steel are filigree in appearance and robust in use
Ceiling elements
Highly absorbent, impact-resistant or translucent and lightweight.
Acoustic ceilings with aPerf®: The large-format acoustic panels aPerf®-25 can be used to line gymnasiums, classrooms, multi-purpose rooms, etc. without joints.
Elegant, inherently stable ceiling elements with SmartPerf®: The high-quality and discreet solution that makes an impression
Light-permeable acoustic ceiling with ClearPerf®: Mounted below the light fixtures, ClearPerf® provides light and quietness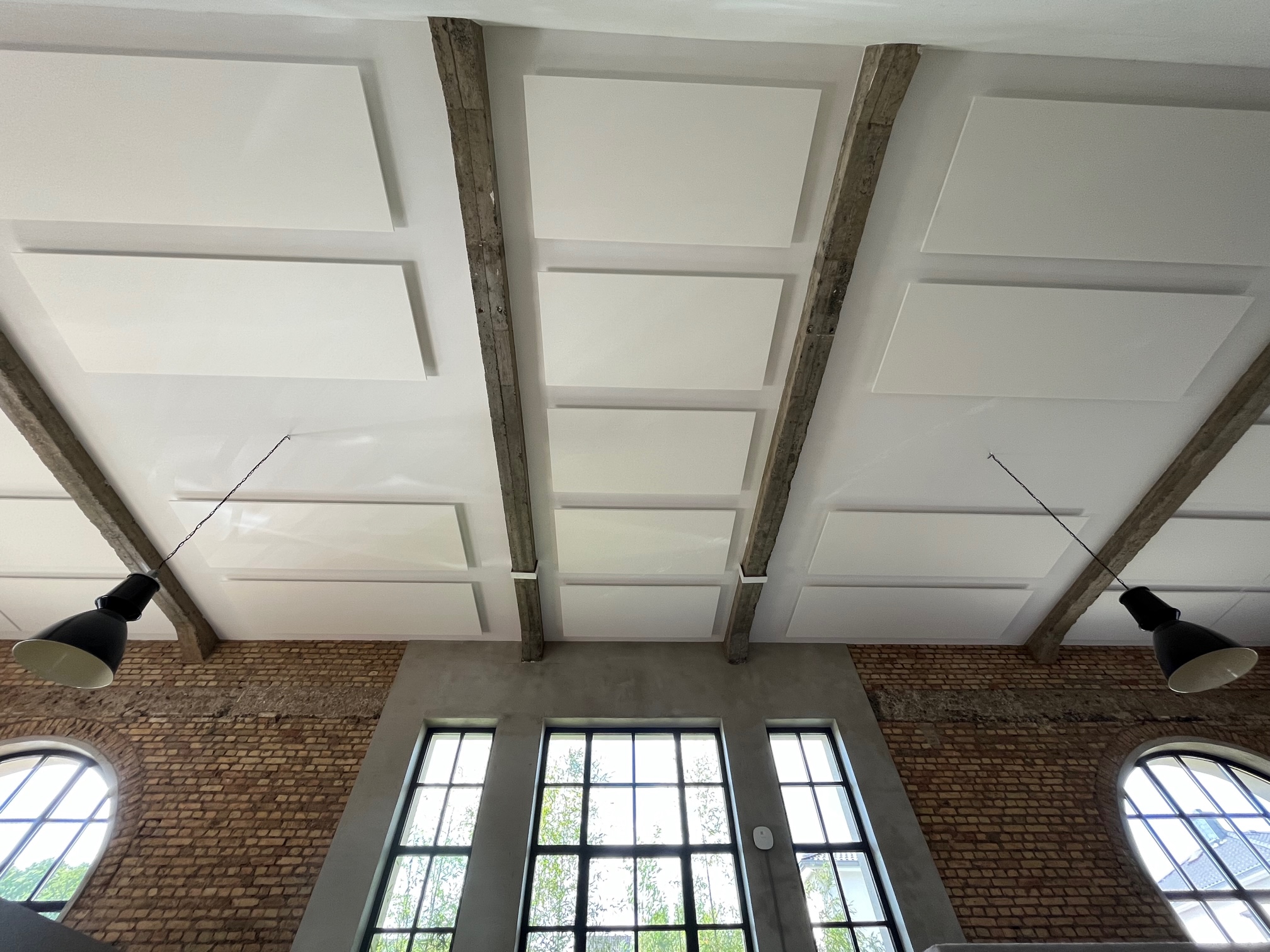 Source: © akustik & innovation gmbh
Objekt: Galexis AG, 4740 Niederbipp
Partition walls and table tops
In the open-space sector, it has been clear since the new DIN standard at the latest that reducing the reverberation time alone is not enough to create a concentrated working environment. Just as important is the reduction of speech intelligibility between the individual workstations, near-field shielding or the reduction of direct sound. Our absorbent movable walls and table tops shield and provide discretion, organize spaces and serve as design elements. They are used wherever acoustic separation is desired. For example, between double workstations, in call centers, as shielding for printers or coffee machines, between tables in catering areas or in counter halls.
Source: © akustik & innovation gmbh
We offer different materials for individual use:
Wall elements
Made of printed steel or elegant acoustic fabric. Wherever modern, sound-reflecting building materials radiate stylish looks, quality absorbers from aPerf® or SmartPerf® provide the right acoustics.
Places of application are:
Counter halls and customer centers
Stairwells
Meeting rooms, reception rooms
Private lofts
Salesrooms
Hair salons
Hotel lobbies
Choose between SmartPerf® acoustic elements, the laminate-coated acoustic panel with a sophisticated look, or the environmentally friendly aPerf® elements made of partially recyclable PET. Use the walls for room acoustics!